Ahoy Everyone!
Join us for the second progressive challenge from Sassy Studios over at
Paper Craft Planet
. The theme of this new challenge is 'Patriot' and there are 3 (yes THREE!) free (yes FREE) images up for grabs.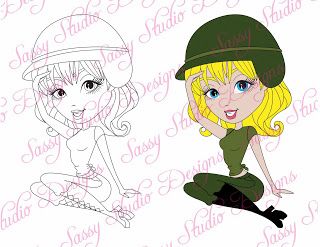 If you joined in with last month's challenge or are joining us for the first time 'Army Honey' is available to you for free. Each month that you enter the challenge, you will receive the following month's image for free...and so on. If you are unable to participate one month, you may still join the fun by purchasing the current month's image by asking for a discount code to purchase for 1/2 off. To find out how to get your first image head on over to
Paper Craft Planet
.
I created a card using 'Sailor Honey' which is one of the other images you can request once you have created a project with 'Army Honey'.
I love this image, she is just so darn cute, after I finished colouring her with my ProMarkers I couldn't resist putting an Action Wobble Spring behind her for a little more fun. Here she is in 'action'.
So do you want to know what the third free image looks like? You will have to join us over at
Paper Craft Planet
and see what the DT came up with. You have from June 15th - July 14th to join in - plenty of time to play. I can't wait to see what you all create.
Here are a list of challenges I am entering this card in:
Michelle