Hi Everyone
Welcome to
Sassy Studio Designs Spring Blog Hop
.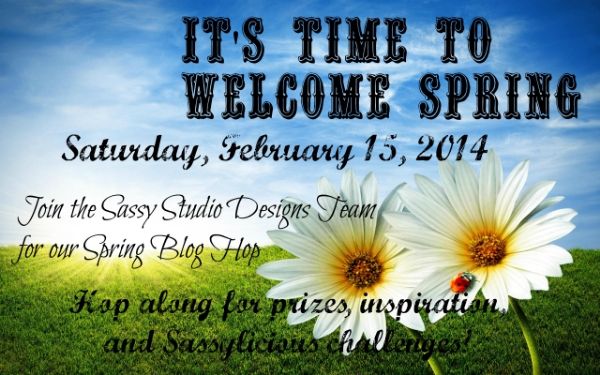 If you have arrived here from
Chris' blog
then you are on the right track, if you have happened here by chance you may want to start back at the beginning at
Sassy Studios
.
The theme for this blog hop is 'Spring/Fresh' and the challenge to make 'Anything But a Card'. Lindsay has created some wonderful images for us to create with, and mixed in along the way you will find some of the older images used in a fresh way. So without further ado let me show you my project.
The image I have used is
Patriotic Pin Up Sassy
. She was released last July, and obviously is just perfect for 4th July celebrations, or for Presidents Day (literally just around the corner) - but if you take a look at her in a fresh way, and may be play around with the colours on her clothes she would be a fun image to use on many different projects.
This container (formerly housing vinyl wall art) I have covered in washi tape and added the image on a tag. Now I will admit to taking some liberties with this image and giving her a little facial hair (so she won't look like this when you see her in the store!)
She was so much fun to colour in orange and black, with a few silver stars (she could almost be a circus ring master!)
I intend to fill the container with a few edible goodies, and this is the label which I put on the lid.
Here is a list of all the blogs on the hop - you won't want to miss any of their fabulous projects. To be in with a chance of winning some of these sassy images don't forget to leave a little love at each stop along the way.
Sassy Studios -
sassystudiodesigns.blogspot.com/
Greg -
latestwhims.blogspot.com/
Jackie -
stampingsister.blogspot.com/
Kim -
itsallaboutcrafting.blogspot.com/
Valerie -
lafeerieduscrap.blogspot.com/
Sara -
luminousinmychaoticdreamslife.blogspot.com/
Chris -
cattsscratchingpost.blogspot.ca/
Michelle -
ladyofleisureink.blogspot.com/
Debbie -
www.craftingwhenican.blogspot.com/
Jacki -
www.papermoments.blogspot.com/
Adina -
mommyisscrapping.blogspot.com/
Karal -
karalscreativespace.blogspot.com/
Gemma -
handmadebygem.blogspot.com/
Carrie -
carrieshandmadecards.blogspot.co.uk/
Kitty -
intruderlady.blogspot.com/
Lindsay -
socallinz.blogspot.com/
Susan -
craftinsuzie.blogspot.co.uk/
Lori -
lorib117.blogspot.com/
Sassy Studios -
sassystudiodesigns.blogspot.com/
Another way to win some images is to join in with the challenge, create 'anything but a card' and link it up on the
Sassy Studios
blog. I can't wait to see what you create.
Thanks for stopping by today, your next stop is with my sassy sister (and the queen of bling)
Debbie
.
Michelle